The 5 Books That Got Me Back Into Reading & Changed My Life Forever!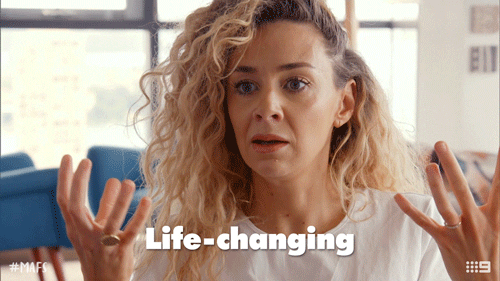 Hey, bookworms! For today's post, I wanted to look back on my time as an avid reader and really discuss which books got me back into reading again because they deserve some recognition! There's going to be literally no rhyme or reason to this post, other than I'm going to give a brief summary and explain what aspects I loved from each book enough to make me continue reading to this day! Let's get started!
You Are A Badass: How to Stop Doubting Your Greatness and Start Living an Awesome Life
"In this refreshingly entertaining how-to guide, Jen Sincero serves up 27 bite-sized chapters full of hilariously inspiring stories, sage advice, and easy exercises. You Are a Badass will help you: Identify and change the self-sabotaging beliefs and behaviors that stop you from getting what you want, blast past your fears so you can take big exciting risks, figure out how to make some damn money already, learn to love yourself and others, and set big goals and reach them. By the end of You Are a Badass, you'll understand why you are how you are, how to love what you can't change, how to change what you don't love, and how to use The Force to kick some serious ass."

This is a book I've read more than once now because it brings me reminders of exactly what the title says, "how to stop doubting your greatness and start living an awesome life". Jen Sincero has a way of wording her advice to make you feel like certain things and scenarios in your life aren't completely hopeless! It's also not like any other self-help book I've read where it's just a bunch of mumbo jumbo! She has multiple books in the You Are A Badass series and I'd recommend them all, but especially this one, as it gives you a broader point of view on how you're living your life and what changes you can make!

The Couple Next Door
"Anne and Marco Conti seem to have it all–a loving relationship, a wonderful home, and their beautiful baby, Cora. But one night when they are at a dinner party next door, a terrible crime is committed. Suspicion immediately focuses on the parents. But the truth is a much more complicated story. Detective Rasbach knows that the panicked couple is hiding something. Both Anne and Marco soon discover that the other is keeping secrets, secrets they've kept for years. What follows is the nerve-racking unraveling of a family – a chilling tale of deception, duplicity, and unfaithfulness that will keep you breathless until the final shocking twist."

I remember bringing this book home and being like…hmm will I actually read this? But then one night in a moment of needing to escape, I picked it up and my entire world changed (I know that's dramatic but it's true). This book hooked me from beginning to end and the twists and turns I endured as the reader were enough to make me realize just how important it is for my mental health to escape from reality once and a while and dive into someone else's story, even if it's fiction! This was such a great book to help me get back into reading and it was the first thriller I picked up, so I guess you could say this is what started it all for me!

The Beauty Of The End


"So begins the testimony of Noah Calaway, an ex-lawyer with a sideline in criminal psychology. Now living an aimless life in an inherited cottage in the English countryside, Noah is haunted by the memory of a young woman who left him at the altar sixteen years earlier. Then one day he receives a troubling phone call. April, the woman he once loved, lies in a coma, the victim of an apparent overdose–and the lead suspect in a brutal murder. Deep in his bones, Noah believes that April is innocent.

While Noah searches for evidence that will clear April's name, a teenager named Ella begins to sift through the secrets of her own painful family history. Ella harbors a revelation that could be the key to solving the murder. As the two stories converge, there are shocking consequences when at last, the truth emerges. Or so everyone believes…"

This was one of those random reads that I purchased from Value Village. I was really tempted to just re-donate it, but I'm so happy I didn't because this is such a beautiful and meaningful thriller/mystery that revolves around not only a complex murder but so many other prominent domestic concerns such as rape and suicide. I really enjoyed the time-shifting narrative in this book and the plot twists left me mesmerized! I can't wait to reread this in the near future!


The One

"A simple DNA test is all it takes. Just a quick mouth swab and soon you'll be matched with your perfect partner–the one you're genetically made for. That's the promise made by Match Your DNA. A decade ago, the company announced that they had found the gene that pairs each of us with our soul mate. Since then, millions of people around the world have been matched. But the discovery has its downsides: test results have led to the breakup of countless relationships and upended the traditional ideas of dating, romance, and love.
Now five very different people have received the notification that they've been "Matched." They're each about to meet their one true love. But "happily ever after" isn't guaranteed for everyone. Because even soul mates have secrets. And some are more shocking than others…"

If any of you reading this know me well enough, you know that this book still goes down in history as one of my all-time favorite thrillers! I love that there's a bit of sci-fi and romance mixed into the suspenseful novel and the chapters are so short and riveting! I cannot recommend this book enough it's been a book I've thought about every day for the last 2 years!

The Woman In The Window
"Anna Fox lives alone in her New York City home, unable to venture outside. She spends her day drinking wine (maybe too much), watching old movies, recalling happier times… and spying on her neighbors. Then the Russells move into the house across the way: a father, a mother, and their teenage son. The perfect family. But when Anna, gazing out her window one night, sees something she shouldn't, her world begins to crumble and its shocking secrets are laid bare. What is real? What is imagined? Who is in danger? Who is in control? In this diabolically gripping thriller, no one—and nothing—is what it seems."

This is the final book that got me back into reading! I was thoroughly impressed with the writing of this book and the uniqueness of its story, as I've never read anything like it before! This story left a lasting mark on me where to this day (2 years later) I can still remember most if not all of the plot! Aside from The One, this was the first book I had a hard time putting down!
Conclusion

You may be able to notice that I really loved (and still love) thrillers when I started reading and for some reason, I strictly read thrillers and non-fiction/self-help books! I made it a goal for myself when I first started reading again to read 1 thriller and 1 non-fiction per month…that goal started and ended within a couple of months because I was introduced to so many different genres and really took the time to learn my reading habits, as well as what and how I truly love reading! If I had to look back on the 4 mentioned thriller books and order them from least favorite to most favorite, I think this would be my order:
Comment down below a book that got you either into reading or back into reading! I am so incredibly grateful for these books because I don't know where I would be on my reading journey if it wasn't for them! These authors are all incredibly talented, and I owe them a huge high-five for how much they've positively changed my life! Thank you so much for reading today's blog post bookworms and have yourself a beautiful rest of your day! ❤